Ahhh take me back…. here's a little Stay Fit Stay Fly TBT style…
Having the opportunity to get away and cut off from all technology was just what the doctor had ordered!  Sunshine, breeze blowing through palm trees, and a delicious adult beverage in hand – I can seriously get on board with this mermaid life! 😉
Taking time to relax and make time for yourself is a necessity!  Now, although I was on vacay, that doesn't mean I left the healthy lifestyle at home BUUUUUT I do make sure that I enjoy myself! (Remember it's all about the Balance!  ;)) You have to live your life, and being in another country, one of my favorite ways to experience it is through FOOD!
Starting every morning with this colorful plate of Tropical goodness was the best way to start – you really can't get it like this at home – some of my personal faves of pineapple, papaya and mango!!!

(Gorgeous right???)
Swimming in the pool & the ocean were delightful (shocking to those who know me in NYC, but in a tropical setting, what can I say I really am a mermaid).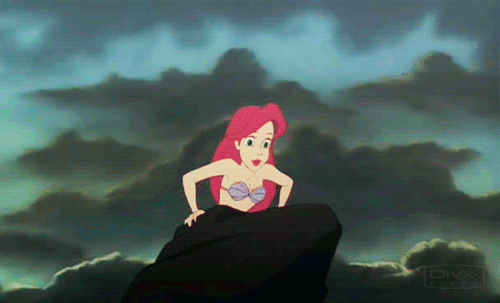 (Just like this, I swear…)
Renting bikes was a fantastic way to get around and see more of the island!  No road biking here, total beach cruiser…. though a few wrong turns, and some hills later, I'm quite certain this is one of the few cruisers to make it up there up – but all well worth it!

Now for some new adventures in the sun… STAND UP PADDLE BOARDING!  This has been on my list for a while, and a bit difficult at first but once you get the hang of it, it's easy as 1, 2, 3!  Super awesome total body workout!!!  Looking forward to checking this out locally this summer…although I think it may lose some of it's allure sans turquoise water….
Although no photos, there was group Banana Boating…just a mere 15 mins and your inner thighs will surely feel the burn!  Think of mechanical bull riding in the ocean…and your main goal is to hang on! 😉

Easy as 1, 2, 3!
Living the life of a mermaid and having fair skin means I need to take some extra precautions!!! SO so thankful for Beautycounter Sunscreen – this stuff is amazing!  Chemical Free, NON-GREASY and smells great!  A little goes a long way – I highly recommend it!  Check it HERE

Being back in the hustle and flow of life, I appreciate my down time even more!!! We all work hard, and it is equally as important to take care to ourselves and to allow some time to relax. My tech detox was well worth it!
Tell me, how do you like to keep healthy while on Vacay?
What do you do to take time for yourself when life gets crazy?
Stay Fit Stay Fly!  Keep it tasty!
-SS
JAM OF THE DAY: MERMAID – Flight of the Conchords
(super pumped to see them live this SUMMER!)